Kayak Girl Set in rural Alaska, Kayak Girl is a touching tribute to the power of memories and a grandfather's love. The wonderful, sensitive paintings that illustrate Kayak Girl recreate the beauty of an Alaskan riverside landscape along with the beauty of treasured memories of a mother's love and care. Ages 7 and up.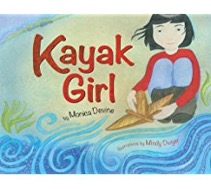 Hanna Bear's Christmas A wonderful story about cooperation. Hanna Bear can smell winter coming. It's time to find a den and snooze until spring. But this year Hanna longs to see Christmas, so her friends agree to get her up for the special day. A fun story for little ones about when to cooperate, when to make noise, and when to be silent. Preschool to Grade 2.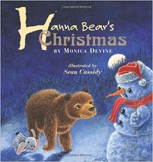 Carry Me, Mama Mama knows that Katie is now old enough to walk by herself, instead of being carried. The color and beauty of the Far North is captured in Paquin's energetic and expressive oil paintings.  Preschool-Grade 1.
Iditarod: The Greatest Win Ever While racing her dogs in the Iditarod, Kara proves that the greatest win is something other than having her team come in first. Grade level: 3-6.